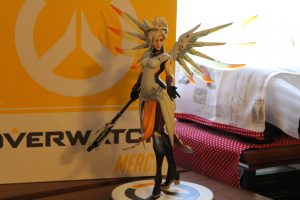 Ahoy me mateys Captain Cats here. Blizzard has always had great statues of their characters from their game such as Sylvanas and Illidan from World of Warcraft. Overwatch also has a few statues such as Widowmaker, Tracer, and Genji. The D.VA statue is also magnificent in its own right, but today we are talking about the Overwatch Mercy statue.
The Mercy statue looks GORGEOUS. She stands 13.75"/34.925 cm tall, and the base is 12.75"/32.385 cm in diameter. The Blizzard animation and Overwatch Development teams and the team of sculptors, molders, painters, models, and casting who brought Dr. Angela Ziegler to life. As you can see in the detail work in the front and back of the statue and all the small details such as the logos and the flag of Switzerland.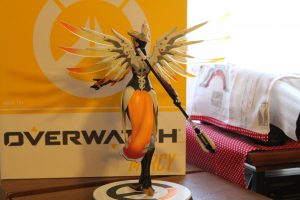 The Mercy statue will cost you around $175 from the Blizzard Store, and if you believe that heroes never die, then I would highly recommend you to get this work of art.