Ahoy me mateys Captain Cats here. Christmas is coming, and if you are looking for something unique, one of a kind gift and artwork from over 62 female artists than the GirlsDrawinGirls Group Tarot Card Deck is just the gift for you.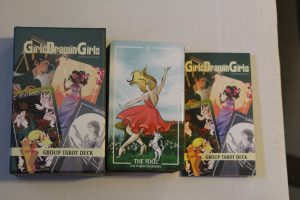 The Tarot card deck has all of the 78 cards that are used for card reading. Each card was designed by an artist that is part of the GirlsDrawinGirls group, and each card will have the artist name at the bottom of the card. The card has a lovely design on the back of each card of the groups' logo and with golden edges for each card.
The deck is going for $40 and comes with a beautiful box, the full card deck and a small handbook with the names of the cards and artists who work on them. If your better half loves collecting artwork than this is something you should get them.
We will post a link to the GirlsDrawinGirls and take a look at all the other things they do, who knows you might find your next favorite artist or two here.