Ahoy me mateys Captain Cats here!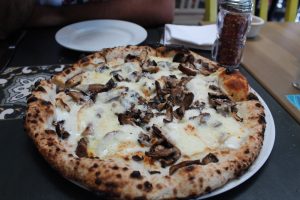 Little Italy, one of the most beautiful places to see and visit in San Diego, but it's also one of the best places to eat as well. The Nightrider and I went out to eat at a small little place there, and it is the best-kept secret there, and it is Solounto Ristorante & Bakery.
This place is located near the heart of Little Italy so parking can be hard to find, precisely at the weekends. After you find parking and head into Little Italy, you will discover Solounto, and the place is lovely. If your lucky and go when it opens up in the morning, you can have an excellent Italian breakfast with fresh coffee and have some freshly baked Italian cookies, bread, and pastries.
If breakfast is not your thing, then head over during lunch, which we did, and it was terrific. We order an oven fired pizza that was delicious. The pizza came with an order of fresh bread with a sauce was made of oven roasted tomatoes, olive oil, garlic and basil with a hint of chili pepper that gave it a surprising kick that you didn't expect. After about 10 minutes the oven fired pizza Napoletana came, and it looks mouthwatering. We order a Le Bianche or the white in Italian, is the sauce they used for the pizza and the toppings were fresh mozzarella, mini portabella mushrooms, ricotta cheese, and truffle oil. The pizza was a delight to eat, the taste, the aroma, the truffle oil match well with one another and the crust was perfect.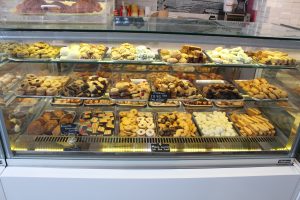 After that, we had some of their fresh pastries with a cup of Caffe Macchiato, which hit the spot and was content with this place. The environment, the location, the staff were all perfect, and the price is reasonable. If you are in San Diego, either as a local or visiting, head to Solounto Ristorante & Bakery, it is worth the trip.